After 24 hours of tear filled flights, we arrived in Bangkok to begin our new normal. It was midnight-ish. I was tired. Jet-lagged. We had walked into a less than stellar apartment, which threw my inner miss-priss into quite the tizzy. We went to bed only to wake up 3 hours later because after a transcontinental flight, our bodies were just a tad bit confused. The next day, a sweet coworker offered to take us grocery shopping. I was super thankful to have someone to drive us around, give us pointers, and do some thinking for us.
After figuring out cell phones (everyone's obvious first stop when in a new country with NO ONE to call), we headed towards the grocery store. To be honest, my head was ready to explode. I couldn't deal with the smells of Thailand, didn't understand anyone anywhere, and was so worried about how we were going to find a better place to live.  Grocery shopping was something we had to do at the time, but I wasn't quite ready for what I was about to walk into.
Big C is Thailand's version of Walmart. If you know me, you know that I do not shop at Walmart at home. I avoided Walmart like the plague.
I am a Publix kind of girl. All the way.
Walking into Big C, my nerves were more than shot, they were non-existent. They were crying for all that was left behind and they were too overwhelmed to begin thinking about anything. Yet here I was, shopping for my family, in the Thai version of Walmart.
As I walked in I immediately stumbled upon the meat/fish section. The meat/fish section looks like this:
The pictures above really don't do this justice. These are basically big tubs of meat and fish. In the middle of grocery aisles. They are laying out, uncovered, on ice. People are walking buy breathing on them, coughing on them, touching them and scooping out their own meat. No gloves. I was overwhelmed, and quickly decided our family would obviously be starting a  vegetarian diet. Immediately!
So, no meat for us!
The fruit section was pretty intimidating as well. All of the stuff I was used to buying was really expensive. I didn't quite have the conversion rate down yet, but I knew that somethings were just way too much. There were all kinds of "weird" fruits that I knew nothing about. Today, many of those have become our favorites. However, fresh off the plane, I was not up for being adventurous! We got one thing of cut-up pineapple, and headed out of the fruit section as quickly as we could.
I managed to grab some milk, but stared down the cereal aisle for a good 5-7 minutes. The cereals we ate at home were almost $10 each. There were all of these other types of cereals, but I was kind of paralyzed. The cereals overwhelmed me to the point of near-tears. Finally I grabbed what looked like some sort of coco-puff, sugary mess of a cereal, and moved on. I was trying to hold it together.
We grabbed one bag of pasta, and then had to settle for some random brand of pasta sauce that I had never seen. The Italian-sauce-snob in me, just knew that I could not survive a nasty jar of sauce. So there was a lot of pressure on this jar to not disappoint. I grabbed some cookie type things, some sodas and then it happened.
We turned the corner to the cleaning supply aisle. This is like my home people. There are few things in life that feed my desperate need for control like a nice clean home. Our "home" in Thailand was in my mind, an abomination.  (I am clearly way too dramatic, but this was how I felt at the time!) I needed to clean. This was something I could do. Except this aisle of cleaning supplies looked nothing like Publix's perfectly ordered section of cleaning heaven. Nope it was a row of products all labeled in Thai. They all looked the same, and I couldn't tell what was what. There were no Clorox wipes. None. I thought I might faint upon that realization. There were two rows of detergents…all labeled with Thai words. I had no idea what bleach looked like here, and was terrified of buying something that would bleach our clothes out. I started to tear up in that detergent aisle. This was way too much. I wasn't ready. I couldn't hold it together. Grocery shopping in Bangkok was clearly not an option for me.
Esteban picked some supplies out, and we some water. We left the grocery store with some pineapple, pasta, cereal, cookies, a jar of sauce, some cleaning products, soda and water….and a barely sane-verge-of-a-nervous-breakdown version of Danielle.
I was not feeling like life in Bangkok was going to work. It actually took me months, like 6 to be exact, to get grocery shopping down. However, I soon learned about the Publix version of grocery stores here in Bangkok. I have learned where things are, what packages look like, and who to ask when I don't have a clue. My family has eaten every week since moving here, and I haven't cried during a grocery store run since. Shopping in Bangkok is now something I enjoy…but on that day, the grocery store was enough to make me want to pack it all up, and peace out of this joint!
So there you have it…my first Thai grocery experience! Today, I am joining Kristi and Kitty in their Storytellers Link Up! Hop on over to read some other lovely ladies' stories!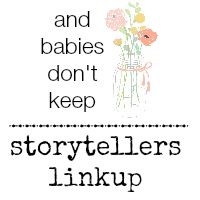 ***Get your copy of the
ROOTED Bible Study and Prayer Journal
today! Use the code EPHESIANS for 15%  off of the Ephesians study (good for one week!) and check out the new Galatians study!***